The UK's premier manufacturer of charred Siberian Larch
extensive range of alternative charred woods available
Manufacture
Our charred larch is Siberian larch which can be produced to have a smooth or textured finish. After charring it is then washed to remove excess soot and left to dry.
Charred Timber Durability
Siberian larch is naturally durable and the charring process adds to the overall life expectancy of the wood.
It will last a lot longer than any other treated wood. Some estimates greatly exceed 100 years if the wood is maintained with regular oil refinishing. It is fire, rot, UV and insect resistant.
Certification
All Charred Timber products are manufactured from FSC certified sources. FSC certified sources
If necessary we can work with our ISO 9001 and ISO 14001 certified partners to deliver your project within your policies' scope.
Types of Charred Timber projects
Our charred larch can be tailor made to suit your purposes to the highest standards.
From large to small interior to exterior we have used charred timber in every sort of installation from small domestic projects right up to multi-million pound corporate and artistic showcase developments.
Where does Charred Timber fit into your project
We can work with architects and simply deliver products to other contractors or can project manage and deliver any scale of charred timber structure in the UK.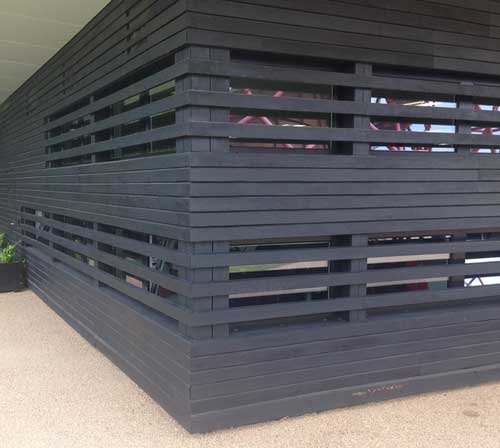 Processing the larch
The Siberian larch (Larix sibirica) is a frost-hardy tree native to western Russia, from close to the Finnish border east to the Yenisei valley in central Siberia, where it hybridises with the Dahurian larch L. gmelinii of eastern Siberia.
It is a medium-size to large deciduous coniferous tree reaching 20-50 m tall, with a trunk up to 1 m diameter.
Aliases – Shou-sugi-ban and Tiga Wood
Charred timber also known as "Tiga Wood" and "Shou-sugi-ban". The latter from the Japanese tradition.
Alternative charred woods include cedar
What's in a wood? Why our customers choose Siberian Larch again and again